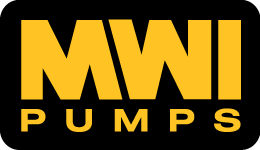 MWI Corporation is an extension of a business started by the Eller family in 1926 in Deerfield Beach Florida. Originally founded as a company engaged in the manufacture of iron and steel equipment, MWI realized the need for a reliable manufacturer of pumping stations for irrigation, drainage and flood control applications. We specialize in the design, manufacture, and use of high efficiency axial and mixed flow propeller pumps worldwide. We offer numerous configurations and deploy kits ranging from 4″ pumps to 30″ pumps – or more -, so no job is too big for MWI.
In 1969, MWI entered the rental market utilizing our own designs. Today, MWI Pumps continues to manufacture and sell the best hydraulically driven trash pumps (DuraFlo™), rotary well point pumps (RotoFlo™), and our own centrifugal, self-priming dewatering pumps (PrimeRite™). We have a complete in-house repair facility, so you can rest assured that your equipment will be fixed correctly. Backup pumps are always available. MWI realizes that your time is a valuable asset, and that downtime can be costly. Your needs are important to us, and that's why we're committed to giving you the best quality service.
In the pump industry you can either, lead, follow or get out of the way. Moving Water Industries is proud to be at the head of the class in our industry and we fully recognize that it isn't possible without a talented and dedicated staff. We remain competitive in hiring and retaining the most qualified candidates as well as provide a welcoming atmosphere.