The SolarPedalFlo™ is a potable water supply system in which water is lifted from boreholes, filtered, purified and pressurized for delivery anywhere in your community. The SolarPedalFlo™ operates from solar power and human power from a solar panel to capture the suns energy and a fly wheel that is can be operating with heavy duty pedals.
The Solar Pedalflo product line has developed over the years, providing products that reach deeper depths and provide clean, safe water even in the most inhospitable conditions. Features for the Solar Pedalflo, model PF45M, include:
Reciprocating pump
50 micron filtration for particle removal
350 watt solar power rack
1/2 hp motor
HDPE weatherproof cover and base
Large, easy to read pressure gages
Pressure tank capable of holding 88 gallons at 15 psi
Automatic proportional feeder for precise chlorination of water with 5 gallon container for concentrated chlorinated feed stream
4 inch PVC well casing with a slotted well screen
Additional water treatment filters (treating down to 1 micron)
Additional below ground components for a total depth of 57M and a maximum TDH of 60M
The solar power components consist of the solar panels and solar panel stand, DC motor, pressure switch, and linear current booster. The pedal housing assembly is the component used to operate the SolarPedalflo by means of human power, and includes one clutch and two heavy-duty chains. The pedal housing assembly provides an efficient, sturdy mechanism for operators to pedal while resting on the adjustable seat.
The Solar Pedalflo uses several types of PVC hoses and fittings. One inch flexible PVC hose is used to plumb between most components. All PVC components are sized appropriately for their particular application. For distributing water outside of the SolarPedalflo housing, 40 – 50 mm (1 1/2″ – 2″) pipe is recommended.
The SolarPedalflo is a quick, economical and modern technological breakthrough and solution which provides large quantities of clean, filtered, purified and pressurized water to an area without the need of electricity. Let our team of experts show you how the SolarPedalflo will improve the quality of life for rural and peri-urban residents.
According to the World Bank and the UN, there are hundreds of millions of people whose health and life are threatened every day by lack of access to clean water. Let's work together to solve this problem and help meet the Millennium Development Goals. Studies done by international agencies, each borehole for a hand pump can cost between US$7,000 to US$8,000. To drill four boreholes and install hand pumps on them would cost between US$32,000 and US$36,000. For significantly less money, a SolarPedalflo can be purchased and installed complete with borehole, overhead tank with stand, and multiple distribution points. The SolarPedalflo out-produces hand pumps by a factor of four and offers alternate but more effective methods to standard hand pumps.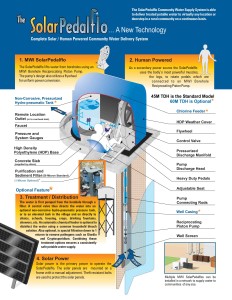 The SolarPedalflo™ is the patented product that is developed and manufactured by Moving Water Industries(MWI). For more information on on the SolarPedalflo, you can find all the other information you need at MWI Pumps.